Springville Community Water Distribution – Friday, August 11, 2023 from 10 am to 2 pm at the River Island Country Club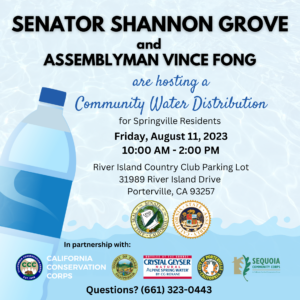 River Island Water Conservation: What Not To Do…
Here you can see an example of what not to do when watering: This lush, green lawn is so saturated that water is now running into the gutter. This is especially important to avoid doing, as this water waste takes away from the overall supply during this water emergency. This is also prohibited in Rule 14.1 E. 3(a) Prohibited Uses of Water. This photo was taken this week in the River Island District.
—- Photo Removed By Request —-
River Island Disaster Recovery & Water Supplies – July 21, 2023
All of us at Del Oro thank you for your conservation efforts, which must continue into the foreseeable future. We also want you to know that we have been working hard to bring River Island's water supply back to normal. Two wells were totally destroyed or made permanently inoperable, and our three golf course wells suffered significant damage during the flooding. The three damaged wells are low producers, but we expect to have them back online within several weeks.
We are also in discussion with various property owners regarding drilling test wells to augment our current supplies. In addition, we will be drilling a test well over the next several weeks at the new treatment plant site. Finally, the water treatment plant is slated to be operational, subject to State Water Board approval, by approximately November 2023, which will be treating water from the Pleasant Valley Canal. While these projects will bring the district's water supply back up to normal operational standards, they will take time.
In the meantime, our water tanks are still critically low, as our remaining wells cannot keep up with the excessive demand caused by summer watering and the extreme temperatures. All wells are running nearly 24 hours per day. Please reduce watering to ensure that all customers in the district have water available for safety and sanitary uses.
As a reminder, watering restrictions are in effect:
Schedule 14.1 Stage 2 prohibits outdoor watering from 8 am to 6 pm, and allows for watering three days per week:
Even (or no street) addresses: Tuesday, Thursday, Saturday
Odd addresses: Wednesday, Friday, Sunday